4/11/2004
I'm Moving
And I'm not just talking about out of my apartment to my condo.
You can find the NEW
Martinis, Persistence, and a Smile
at
http://lawrenkmills.mu.nu
.
Please update your links and blogrolls.
And bear with me...there are some new things for me to learn, and the page looks kind of bland right now. But, I'm working on it! And it will be COOLER than before (I promise).
And if you really love me, make a post on your site advertising my move. THANK YOU!!!!!!!!!
Happy Easter
Happy Easter and Passover everyone! :)

Am I the only one who thinks Peeps are disgusting?

4/10/2004
Countdown
Less than 2 weeks until finals start.

Less than one month until law school graduation.

I think I can...

Now back to the books.

Let's file this under...
...dumbass move.
A Wayne County woman has been sentenced to three years in prison for setting a friend on fire
in a consensual foreplay act.
Darlene Humby, 27, of Newark was sentenced when she pleaded guilty to second-degree assault in connection with the Dec. 12 incident at her home, said Wayne County District Attorney Richard Healy. If convicted after a trial, Humby could have faced up to seven years in prison.
Healy said Humby set the victim's shirt on fire; lighter fluid may have been involved, but there was not much left of the two shirts the victim was wearing to confirm that.
"She didn't try to injure him," Healy said. "It was reckless assault. They were friends and it ignited. He was burned quite severely on his face, arms, neck and torso."
The 32-year-old victim, who was not identified, suffered second- and third-degree burns. He spent two weeks in Strong Memorial Hospital's burn unit and required two skin grafts, Healy said.
4/09/2004
The New Do: Crimson Medusa
A model shows a hairstyle during 'Beauty Season 2004' contest in Kiev, April 7, 2004. The annual international competition of hairdressers and body-art designers started in the Ukrainian capital on April 7 and runs till April 10.
Giving Up "Giving it Up"
Prostitutes in a Romanian town have suspended their services for Lent
.
The working girls in Botasani say they want to be good Christians and go to church for Easter.
The women say they will gather in groups and go to the priests to confess their sins and ask for forgiveness.
One of the girls, Luminita, told Ziarul daily: "Clients are very few these days because many of them are fasting or others keep their money for the Easter preparations. So we thought we shouldn't work this week either."
Another prostitute, Mirela, added: "We don't see what we do as a sin. It's just work and it's our way to earn a living. If we have sex instead of digging the field it's just the way it happened."
4/08/2004
Chunky, But Inventive
An obese inmate was caught
hiding crack cocaine in a cigar holder under a roll of fat
beneath his stomach, jail officials said Wednesday.
Another inmate told jail officials that 6-foot-2 Jonathan Wilson, who weighs 350 pounds, had the drugs, according to an Okeechobee County sheriff's report.
What's he in the slammer for? Jailed on sale and possession of cocaine charges, of course!
Wow
Condi Rice is my hero.

Vote!
4/07/2004
Start spreadin' the news...
Take the quiz:
"Which American City Are You?"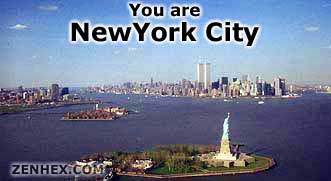 New York
You're competative, you like to take it straight to the fight. You gotta have it all or die trying.
Courtesy of
Brian
.
Furious
Viagra Bee
After one man received tons of different emails trying to sell viagra, each spelling it a new-fangled way, he started to wonder: How many different ways are there to spell Viagra?
Check out his findings,
here
.
Dying Words
I found an
interesting site that lists the last words of real people
. The site also details the events surrounding each death. Some I found most intriguing:
Tallulah Bankhead: "codeine . . . bourbon"
Thomas Becket: "For the name of Jesus and the protection of the church I am ready to embrace death."
Beethoven: "Friends applaud, the comedy is over."
Eugene O'Neill: "Born in a hotel room--and God damn it--died in a hotel room."
Abraham Lincoln: (Laughter)
Joan of Arc: "Hold the cross high so I may see it through the flames!"
James Dean: "That guy's got to stop. . . . He'll see us."
Princess Diana: "My God. What's happened?"
4/06/2004
Ducky Quiz
The Pot Controversy Continues
Comedian Bill Maher, former Minnesota Governor Jesse Ventura, and singer-actress Michelle Phillips among those lending their support to the Marijuana Policy Project, an effort to enlist public officials and celebs in the battle for sensible marijuana laws.
--Michelle Phillips is STILL probably high from all the dope she and the rest of the Mama's and the Papa's smoked back in their day.
Maybe they should join forces with
this lady
: A drug-addicted grandmother who ran a "tinny" house claimed cannabis was a gift from the Maori gods Rangi and Papa. Mary Te Harihari Ake, 50, was sentenced in Tauranga District Court last week to 21 months in prison.
--Picturing either of my grandmothers smoking pot is causing my sides to hurt from laughter.
Dylan and His Divas
Bob Dylan appears in a new series of commercials for Victoria's Secret
, his grizzled face intercut with shots of model Adriana Lima cavorting though Venice in a bra, panties and spike heels.
Not sure why VS thinks seeing Bob will make women want to buy lingerie, but what do I know? I don't find him anything close to sexy.
But don't worry ladies: The 62-year-old Dylan keeps his clothes on. Thank God for small favors.
Lipton and Lopez
Hollywood superstar Jennifer Lopez is poised to thrill film students when she shares her craft secrets with them on TV show "Inside The Actor's Studio."

I'm sorry, but don't you have to at lease be a decent actor/actress to be on that show? How is she going to honestly talk about how she prepared for her "challenging" role in "Gigli?"

I know I may sound a bit bitchy on this one, but this isn't "Access Hollywood" we're talking about here. I've long respected and loved watching ITAS because of its high-caliber guests who really talk about acting as a craft.

4/05/2004
'Bout Freakin' Time
Adolf Hitler's honorary citizenship of an Austrian town has been cancelled
- 66 years after it was originally granted.
The small town of Haslach in Upper Austria was the last Austrian town to have kept the honorary status for Hitler.
It was granted in March 1938 and finally scrapped this week when the town's council decided unanimously to strip Hitler of his honorary status.
And what the hell was so special about this week? Did they just NOW notice he was a disgusting, murdering, pig?
Three Cheers...
...to TARA (my friend from DePauw who was also my roommate when I lived in Chicago)!!!! Miss McKillip got engaged this past weekend! We're all so happy for you, T-Dogg! (and Paul too--he's one lucky guy!).

"You can do what you wanna do...
...in living color."
Miss your favorite "In Living Color" episodes and characters? Well yearn no more. The first season is out on DVD.
You can
buy the three disc DVD set
, which includes all 13 episodes from the first season, including select episode (and sketch) commentary.
You just knew Jim Carrey was going to be famous after watching him on this show. And let's not forget--J Lo was a Fly Girl.
Firth, Colin Firth
"Love Actually" hunk Colin Firth has emerged as the British public's first choice to take over from Pierce Brosnan as super spy James Bond.
The 43-year-old actor, who wowed the ladies as sexy Jane Austen hero Mr. Darcy in "Pride And Prejudice," earned the top spot in a poll by video chain Choices Video.
Eon, the production company responsible for the James Bond franchise, have yet to announce who will play the next 007, leading to speculation that Pierce will be replaced.
Now don't get me wrong, I love, love, love Colin Firth. I'm just not sure I see him in that role though. What do you think?
free hit counter